Smoked Pepper Salmon Recipe
Salmon is one of the favorite delicacies of BBQ lovers everywhere. You'll love it more when it's fresh and nicely smoked. If you want to try something different in place of regular oven-baked salmon, smoking your salmon on your Broil King Pellet Grill might be an equally delicious alternative. Here's our smoked pepper salmon recipe
Servings:4
Prep Time: 30 mins
Grilling Time: 1 Hour
Ingredients
For the Marinade
Fresh dill (½ bunch), finely chopped
Light brown sugar (3 tbsp)
Mixed peppercorns (1 tablespoon)
Salt (1 tbsp)
Salmon-side, with skin on (about 2¼ pounds)
For Salsa
Tomatoes (3 medium-sized), finely diced
Avocado (1, should be pitted, peeled, and finely diced)
Cucumber (½), diced
Scallions (2), with only white and light green parts
Fresh red chile (1), seeded and finely chopped
Fresh dill (1 small handful), finely chopped
Extra-virgin olive oil (1 tbsp)
Red wine (2 teaspoons)
Vinegar salt
Ground black pepper
Granulated sugar (optional)
Potatoes
Small new potatoes (8 ounces)
Extra-virgin olive oil (2 tablespoons)
Salt Ground black pepper
Lemon wedges for serving
Special Equipment
Cedar plank (1), untreated (With a length of 12 to 15 inches long and width of about 7 inches)
Instant-read thermometer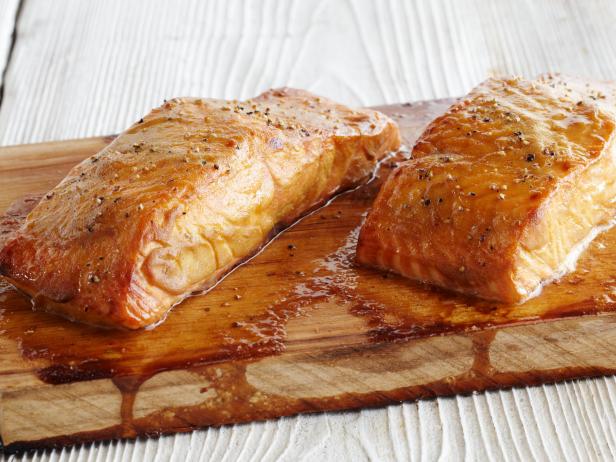 Instructions
Combine all the ingredients for the marinade in a small bowl and mix them thoroughly. Spread this mix over the side of the salmon as evenly as possible before wrapping it in plastic wrap and refrigerating. You can leave it in the fridge for up to 2 hours or even overnight.
Soak your cedar plank in water. It should be soaked like this for one hour or not.
Prepare your grill for indirect cooking by turning the heat to about 250° to 300°F.
While the grill is still being prepared, drain the cedar plant and place it over indirect heat on your grill.
Unwrap your salon and place it on the plant with its skin side down. The salmon should be grilled over low heat with the lid of the grill closed. In most cases, a grill top thermometer like this Fire Magic thermometer should be able to measure the temperature of your food. But for this recipe, we recommend using an instant-read thermometer like this one from Broil King instead because it can be inserted directly into the salmon.
Cook for about an hour or till the thermometer registers 135°F.
Making the Salsa
To prepare the salsa, mix all the ingredients in a medium bowl and combine them really well. Season to taste with salt and pepper. You may also add a little sugar if you want
Boil salted water in a saucepan and add the potatoes to it. Leave to cook like this for about 15 minutes. The potato should be tender now but you can check for doneness by piercing it with a fork since the actual time depends on the size of the potatoes.
Transfer the potatoes to a bowl after draining. Add the coil and season again till it's coated.
Serve the salmon on a platter along with the salsa and potatoes. You can also serve with lemon wedging which will be squeezed over the fish.
Conclusion
It's easy to prepare smoked salmon at home especially if you have a pellet grill like the Broil King 494051 Crown 500 Pellet Grill available here on the Recreation Outfitters Website. This smoked peppered salmon can be served with some cheese, a glass of wine, briny olives, and pretty much anything else you prefer.