Welcome to Recreation Outfitters!
Today, we want to introduce you to the Sea Eagle 393 RazorLite Pro Solo Kayak. This inflatable kayak offers the perfect combination of portability and high performance. Its sleek, tapered design with hard-nosed bow and stern allows for straight, sharp, and clean wave cuts as you effortlessly reach paddling speeds of up to six mph.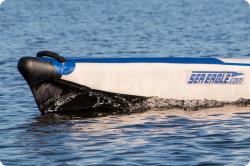 But the convenience doesn't stop there. The Sea Eagle 393 RazorLite is ready for adventure at a moment's notice, with a setup time of just seven minutes. It can support up to 500 lbs and comes with everything you need to hit the water, including a backpack, tall back seat, paddle, flexbrace, pump, skeg, repair kit, and more. Plus, it's NMMA certified and fully constructed with drop stitch technology for added durability.
One of the standout features of the Sea Eagle 393 RazorLite is its straight hull design, which provides the maximum straight hull waterline length and allows the kayak to paddle as fast as any rigid kayak. The bow and stern molds are made of durable plastic and cut through the water like a sharp blade, while the tapered drop stitch side walls provide a rigid chine at the waterline and secondary buoyancy and stability.
Another unique feature is the adjustable FlexBrace™ footrest, which allows for comfortable bracing and can be quickly and easily adjusted to 20 different positions to accommodate any size paddler.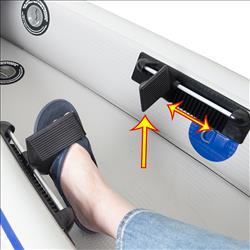 Overall, the Sea Eagle 393 RazorLite Pro Solo Kayak is a top-performing inflatable kayak that's perfect for outdoor enthusiasts and adventure seekers. It's lightweight, portable, and packed with innovative features that make it stand out from the competition. So why wait? Start planning your next adventure today with the Sea Eagle 393 RazorLite .